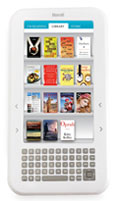 There's a post at MobileRead that points out a clearence sale on the Sharper Image Literati at Bed Bath and Beyond for $39.99.
It isn't the greatest ereader out there, that's for sure, just check my review for the details, but a color ereader at that price is pretty hard to pass up.
And it doesn't stop there. The MobileRead poster was able to get the Sharper Image Literati for a grand total of $12 plus tax using this $20 mail-in rebate form, which expires today, and a 20% off coupon that can be acquired by signing up for their mailing list at BBB.
Even without the rebate, a 20% off coupon takes the total down to $31.99. If you need a spare ereader that supports Adobe DRM for ebooks and free library ebooks it's worth checking out.