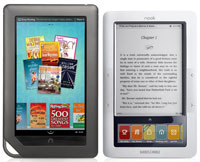 There seems to be a loophole that a number of folks have stumbled across to get a brand new Nook Color for roughly half price or even less. This would apply to the regular E Ink Nook as well and other merchandise from Barnes and Noble, including NOOKbooks.
Groupon is running a promotion for $20 B&N coupons that cost $10 each. The Fine Print of the Groupon offer clearly states limit one Groupon per transaction, but apparently B&N's policy allows you to apply as many Groupons as you want.
Who knows how long this offer will continue to be honored, but as of now a number of people have had success getting a Nook Color for 50 cents on the dollar. And some have saved even more by using a Discover Card to get additional savings by ordering online.
You can only buy one Groupon per city, but since it's available to multiple cities, you can purchase one from each of them to get 14 or so.
You can then take your Groupons to a local B&N store, according to reports, and apply them to the purchase of a Nook Color or other B&N merchandise.
Many B&N retail stores are sold out of Nook Colors, however, so people have found out how to order a Nook Color online (which is now in stock). The problem is that B&N only has 3 fields for entering coupon codes so to complete the online order you have to select "pay by phone". They will send an email with a phone number to call an automated paying service. With the automated service, like in retail stores, you can apply as many Groupons as you want.
The Groupons are on sale for 3 more days. And as long as B&N keeps accepting multiple Groupons per transaction, there's going to be a lot of people jumping at this deal. Of course if B&N stops accepting multiple coupons per order, the whole plan goes out the window.
Update: There are reports that B&N has being advising employees to accept only one Groupon per transaction. Before dropping down a bunch of $$$ on extra Groupons you might want to check the source links below to see if other folks are still having luck.
Source: SlickDeals and MobileRead