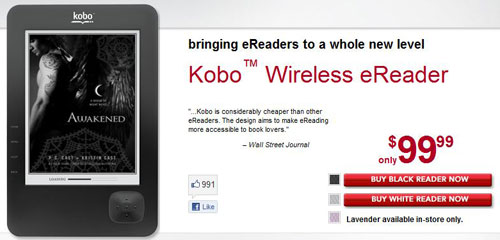 Ebook readers are dropping in price all the time. It looks like Borders has permanently lowered the price of the Kobo Wireless eReader from $139 to $99.
One year ago a $99 E Ink ereader was unheard of, a threshold that many said an E Ink ereader couldn't reach because of the high cost of the screen technology. At this time last year the Kindle 2 and Nook 3G both sold for $259.
When the original Kobo eReader was released last Spring it set the bar as the lowest-priced E Ink ereader ever at $149, so it's fitting that its predecessor should set the bar once again.
The Kobo WiFi is the first E Ink ereader priced under $100 but there are a number of LCD-based ereaders under $100 today, including monochrome ereaders like the Aluratek Libre and Ectaco jetBook.
But the best deal is a refurbished Nook WiFi for $79.99 today only at 1SaleaDay.com. B&N have been selling the same refurbished units on eBay for $119 so that's a pretty hefty discount.
Ever since the iPad made reading on an LCD screen popular, a number of companies you've never heard of before have begun churning out inexpensive color LCD ereaders. Some work well enough to gain praise while others aren't worth the cheap plastic they're made from.
Here's a list of color ereaders priced under $100 today, some as low as $76 (Ematic).
Last week Bed Bath and Beyond were selling the Literati on clearance for $39.99. The Pandigital Novel and Cruz Reader have both dropped below $100 in the past too, the former was on clearance at Kohls a few weeks back for about half that.
This year is shaping up to be the year of the sub-$100 ereader.