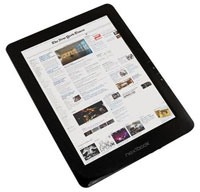 My Nextbook Next3 review unit finally arrived a couple of weeks ago so I've been thoroughly testing it and experimenting with different apps trying to figure out how the Next3 stands up against the competition.
So far I've been fairly impressed with the device given its 8.4″ screen, Android 2.1 operating system, and sub-$200 price, but that's not the whole story. Head on over to the new Next3 review page for the full rundown and video review.
Additionally, I just posted a new NextBook page with descriptions of the forthcoming Next4, Next5, and Next6 that are coming out within the next few months, along with the two NextBooks currently available. The link for the new NextBook page is in the main navigation to the left for future reference.