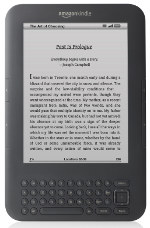 Several new Kindle games, crosswords, and interactive ebooks (similar to choose your own adventure books) have been added to the Kindle store over the past couple of months. In fact, Amazon recently created a new sub-section specifically for Kindle games and active content.
Here's a list of 18 new additions. Make sure to get this first one, Video Poker, it's free. There's a calculator app below it, followed by a couple of interactive ebooks. The rest are games and crosswords for the most part.
Also, Amazon is offering Spry Fox's popular Panda Poet and Triple Town games for 50% off until February 13th.
3.5 stars, 7 reviews
Play Vegas-style video poker on Kindle anytime, anywhere.
Video Poker accurately simulates the Vegas-style video poker machine known as Jacks or Better. After making a bet, you will be dealt five cards. You select which of these five cards to hold, and redraw the rest to try to make the best poker hand possible. A hand with a pair of Jacks or better wins.
The built-in Strategy feature, which you can turn on and off at any time, will provide recommendations for how to play given the hand you were dealt, and will give you hints on how to improve if you fail make the best move. This guidance will help you learn how to play the game, and how to maximize your payouts.
Video Poker tracks how much you win or lose and how often you play the best possible hand.
Try Video Poker today!
4.5 stars, 18 reviews
Easy Calculator is a simple and easy to use calculator for your Kindle. Whether you are calculating your restaurant tip, adding your recent expenses or just checking your math, Easy Calculator will always be traveling with you.
Specifically designed for the Kindle, Easy Calculator features all the basic operations such as addition, subtraction, multiplication, and division, as well as percentage, square root, memory functions and more.
Our calculator is built around an innovative matching keyboard design which associates each key of the calculator with a key on the keyboard. This allows fast and easy keyboard input for all your calculations.
Easy Calculator is an essential tool for Kindle.
4.5 stars, 42 reviews
Choice of the Dragon is a text-based adventure where your choices control the story. On most pages, you'll get to choose between a set of options, deciding which action your dragon will take next. Choose between Brutality or Finesse, Cunning or Honor, Disdain or Vigilance. Or just try to gather as much wealth as you can!
If you love gamebooks, you'll love Choice of the Dragon. Its unique approach to interactive fiction allows larger, deeper and richer stories than traditional gamebooks. Will you discover all of the hidden endings?
Dominate the local kingdom, loot and pillage, and inspire terror in the hearts of your enemies!
Please note: Choice of the Dragon contains content that may be inappropriate for children.
4.5 stars, 26 reviews
Choice of Broadsides is a text-based adventure where your choices control the story. On most pages, you'll choose between a set of options, determining which action you will take next as a young and promising naval officer.
If you like gamebooks, you'll love Choice of Broadsides. Its unique approach to interactive fiction allows larger, deeper, and richer stories than traditional gamebooks. Will you discover all of the hidden endings? Will you become an admiral, or will you be court-martialed? When on shore, will you marry for love or for career advantage, or will you leave aside romance and spend your time gambling and dueling? The choice is up to you.
The sails have been hoisted and the guns run out as the enemy ship approaches. Your country is counting on you!
5 stars, 11 reviews
Enjoy the classic Word Search game on your Kindle anywhere you go.
Locate and mark off words in the grid using the 5 way controller. Each word appears in a straight line, horizontally, vertically or diagonally in the grid – but be careful, sometimes the words are backwards! Play at your own pace or against the clock and see who can get the fastest time for each puzzle. Pause partway through a puzzle and return to where you left it. You can reset each puzzle and try it again as many times as you like. If you get stuck on a more challenging puzzle then you can give up and see the correct solution.
Fun for all ages, with categories from Animals to Best Movie Oscar, there are 50 themed 13×13 puzzles included in Volume 1 covering a wide variety of subjects. People who like puzzles and word games will enjoy playing this fun game on Kindle.
5 stars, 1 reviews
The classic game of Chess is now available on your Kindle.
In Chess you go head-to-head in a bid to capture your opponent's King. Play against Kindle or challenge a friend with Pass 'N Play mode. Choose between 10 levels of difficulty and choose whether you want to play with an optional time limit to increase the challenge. You can also take back a move if you have made a mistake, as well as save your game at any time.
Enjoy this classic game today!
4.5 stars, 32 reviews
Maze A Thon is a collection of different-sized puzzles with the goal of getting a mouse to his cheese.
There are three types of mazes to choose from: Classic, Wrap Around, and Cubetastic. In Classic, you go from point A to point B on one screen in a standard maze. In Wrap Around, use the keyboard to travel from one side of the maze off the screen to the opposite side. In Cubetastic, navigate through a rotating, six-sided maze.
Multiple levels of difficulty make Maze A Thon fun for kids and puzzle experts alike. You can play a quick, easy game, or spend hours finding your way out of intricate puzzles. And, every time you finish a maze, a new one is created from millions of possibilities, so you'll always get something different!
Simple yet addictive. Get ready to be a-mazed.
3.5 stars, 6 reviews
True Backgammon allows you to play the classic game wherever you take your Kindle.
Said to be 1000 years older than chess, Backgammon is one of the oldest board games known. Gameplay involves a combination of strategy, probability and luck, with you and Kindle taking turns rolling two dice, while moving your pieces in opposite directions and eventually off the board. Each move offers opportunities to hit opponent's checkers or block fields. Like all good games, the rules themselves are easy to learn and the game comes with full built-in instructions.
Suitable for beginners and advanced players, you can play matches against Kindle at three skill levels. You can also play in landscape or portrait orientation, adjust various options and suspend a game at any time to resume it later.
Enjoy playing one of the oldest classic board games ever made, now on your Kindle.
3.5 stars, 5 reviews
Flip It! is a game that starts out simple and gets more challenging as you play. Exercise your mind and enjoy solving various patterns and puzzles.
In Flip It! you are shown a grid of tiles that are either black or white. Clicking on a black tile will 'flip' the tile to white; clicking on a white square will 'flip' the title to black. Change all of the tiles white and you've passed that level. It may seem simple, but there's a twist: when clicking on a tile to 'flip' its color, all tiles touching the selected tile's four sides will also flip their colors. Add to that a growing number of squares and patterns per level, and you've got yourself a sophisticated brainteaser.
Try beating your old times, or completing a puzzle with fewer moves. Can you complete all levels with the fewest number of flips?
3.5 stars, 7 reviews
Play Match Genius, a puzzle game that exercises your concentration, memory and cognitive skills on Kindle – anytime, anywhere.
In Match Genius, you flip over a tile to reveal a symbol underneath. By flipping other tiles you match the pairs of symbols. Match tiles in as few moves as possible to get the highest scores. Pay careful attention to the different shades and orientation for each symbol. Certain shapes are almost identical, which can trick an unfocused player.
Match Genius is a fun game for all ages with 6 levels of difficulty, ranging from Easy to Genius. The game automatically saves your progress and keeps a tally of your stats, scores and rank. Become a Match Genius on Kindle today!
3.5 stars, 12 reviews
Brain Bump Literature is a trivia game for book lovers. Challenge your passion and knowledge of fiction with over 700 trivia questions, test your memory, and re-discover old classics.
In the game you are presented with questions, names or quotes about popular books and authors and asked to select the right answer. Play to improve your score and see how far you can take your "Brain Streak" (a Brain Streak is an additional bonus you can earn when answering multiple consecutive questions correctly).
After answering, you can navigate to the Kindle Store through a link in the game, and browse for related books and authors.
1 stars, 1 review
Tic Tac Toe by 7 Dragons brings the simple but classic game of Tic Tac Toe to Kindle.
Similar to the pen-and-paper experience from the school days, choose your Xs or Os and try to line up three in a row. "Pass and Play" allows you to play against a friend, or choose to play against Kindle with three different difficulty levels. Game statistics allow you to keep track of high scores for each difficulty level.
Tic Tac Toe is good entertainment for kids, and a fun way to take a break!
3.5 stars, 22 reviews
NY Times Crosswords, Vol 1, comes with a unique bundle of 30 world famous easy puzzles handpicked by The New York Times and edited by Will Shortz.
You can solve unassisted or get help using the 'reveal one letter' or 'reveal entire answer' functionality. You can even check your work for errors.
Enjoy the gold standard of crossword puzzles on your Kindle!