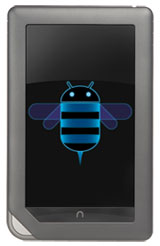 Remember that post from a couple of weeks ago about how someone at XDA forums got Android 3.0 Honeycomb, the latest version of Android designed for tablets, to work on the Nook Color?
It turns out the process is far simpler than I thought. There's no hacking or rooting required. All you need is a spare 4GB or larger microSD card to get Honeycomb running on the Nook Color.
My new memory card arrived last Friday so I was able to try out the Honeycomb ROM extensively over the weekend. It works surprisingly well and is definitely worth trying out. It's not even the full version of Honeycomb yet, just the preview version, and it's still impressive.
I put together this Nook Color Honeycomb video review and how to page. Take a look. There's tons of screenshots and instructions on how to get Honeycomb on your Nook Color. Even if you don't have or want a Nook Color, this is a good sneak peek at the operating system that's coming to some of the major Android tablets this year.