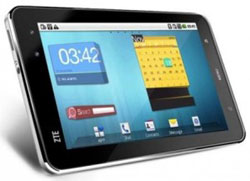 Last week ZTE unveiled a new Pixel Qi-equipped tablet called the ZTE Light 2 at the Mobile World Congress convention in Barcelona.
The ZTE Light 2 is the first device to use Pixel Qi's new 7″ screen that was on display at CES 2011. The 7″ screens have a pixel resolution of 1024 × 600, the same as Pixel Qi's 10″ screens, so with the smaller screen the pixel density is much better at 170ppi as opposed to about 118ppi for the 10″.
Pixel Qi's screens use less power than traditional LCD displays because the backlight adjusts to ambient lighting conditions and turns off completely so that it is readable in bright light and even direct sunlight.
The lower power consumption equates to longer battery life, although no official estimates are given for this particular device. The Nook Color uses a 7″ display with the same pixel resolution and it gets about 8 hours for reading, less for Android tablet stuff. Given that, the Light 2 should be able to push 10 hours or more.
The ZTE tablet is powered by a 1GHz processor and runs Android 2.2. It comes with 4GB of internal memory, features a slim 12.6mm design, and uses a multi-touch capacitive touchscreen.
It's unclear what part of the world ZTE intends to market the Light 2. ZTE is the biggest telecommunications company in China but is pretty much unheard of here in the US. Perhaps the Light 2 will be released here under a different brand name.
ZTE Light Video at Mobile World Congress