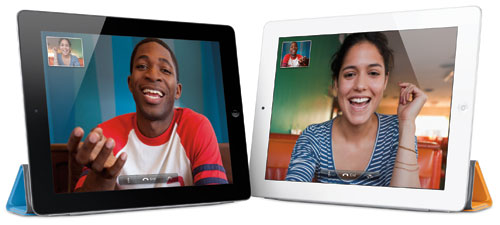 Despite being on medical leave, Steve Jobs introduced the iPad 2 today at Apple's big iPad event.
The iPad 2 will go on sale March 11th in the US from Apple Stores at 5pm and online with free shipping. It will go on sale internationally to 26 countries on March 25th, and then will continue to roll out to other countries around the world in the upcoming months.
The iPad 2 has a lot in common with the original iPad, which is now selling for $100 less than it was yesterday. The iPad 2 has the same screen size and 1024 x 768 resolution, same 10 hour battery life, and the same price structure for the 6 different models ranging from $499 for the WiFi 16GB model to $829 for the WiFi/3G 64GB version.
But there are a lot of differences too.
What's New With the iPad 2?
While most new tablets coming onto the market are trying to catch up with the original iPad, the iPad 2 further distances itself by adding some cool new features sure to give plenty of Apple fans reason to call in sick for work to go stand in line for hours to get new iPads.
New dual-core 1GHz A5 processor is up to 2 times faster than the original iPad's CPU and up to 9 times faster for graphics.
Super thin design at 8.8mm (.034″). That's nearly as thin as the Kindle 3 and just slightly thicker than a pencil.
15 percent lighter at 601 grams (1.33 pounds).
Front-facing VGA camera and 720p HD rear facing camera; can make FaceTime calls and use Photo Booth to apply visual effects to photos captured with the two cameras.
Comes in black or white.
New magnetic smart covers that convert into a stand and activates sleep when opening/closing – comes in 10 colors, $39 for polyurethane, $69 for leather.
HDMI port for HDMI video mirroring (requires special $39 cable).
New apps: iMovie and GarageBand.
Choose between AT&T and Verizon for 3G wireless.
The iPad 2 comes with iOS 4.3 that delivers faster web browsing, iTunes Home Sharing, adds enhancements to AirPlay, choose to set iPad's side switch to either lock screen rotation or mute audio, and Personal Hotspot to share an iPhone 4 cellular data connection over WiFi.
Apple's iPad 2 Introductory Video
The iPad 2 is FAST
Another iPad 2 Video