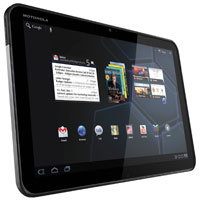 Motorola made the WiFi-only Xoom Android tablet official today by announcing it will be released on Sunday, March 27th for a suggested retail price of $599.
The Motorola Xoom WiFi is already up for pre-order on Amazon.com and B&H
and will sell from a plethora of retailers including WalMart, Sam's Club, Best Buy, Costco, RadioShack, and Staples.
Motorola currently offers the 3G version of the Xoom for a wallet-shredding $799 without a contract and $599.99 with a two-year contract through Verizon. Aside from the wireless modem, the WiFi-only Xoom is identical to the 3G model.
The first tablet to come equipped with Android 3.0, the Xoom features a 10.1″ capacitive touchscreen, 1GHz NVIDIA Tegra 2 dual-core processor, 1 GB of RAM, 32GB of memory, a 5MP camera, as well as Adobe Flash support. Click here for more specs and reviews.
For comparisons sake, the iPad 2 WiFi 32GB model sells for $599 too. Most people are comparing the Xoom's price to the price of the 16GB iPad for some reason. Android surely isn't as polished as Apple, but is more open. It will be interesting to see how well the Motorola Xoom WiFi does at $599.