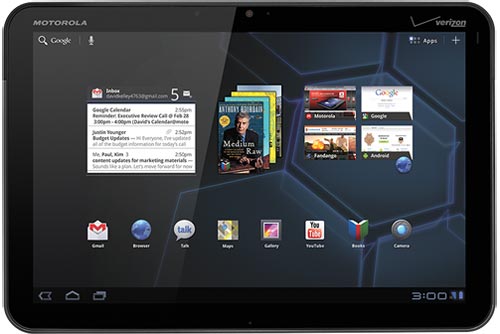 Now that the Motorola XOOM has officially been released and has started selling from stores like Verizon, Amazon, and Best Buy, a number of tech sites are starting to post in-depth reviews and videos of the Xoom in action.
I thought about buying one myself to review for this site, but I think I'm going to pass. $800 is just too much. And my distaste for rip-off 2 year contracts leaves the $600 option out. Perhaps if the WiFi only Xoom costs less than $550 when it comes out I'll pick one up.
And now that the iPad 2 is out with a bunch of upgrades and the same price structure as before, the Xoom's price looks even more exorbitant. Don't be surprised to see the Xoom's price drop in the next couple of months, especially once all the other Android 3.0 tablets start hitting shelves.
Motorola XOOM Reviews
Most reviews for the Xoom, including the ones referenced below, all seem to come to the same general conclusion: The coolest thing about the Motorola Xoom isn't necessarily the Xoom itself, it's the new Android 3.0 Honeycomb operating system.
As far as hardware most agree that it is pretty solid but there isn't anything spectacular about it. The main complaints, aside from the price, are the video recording isn't the greatest, the speakers aren't very good at high volume, and there aren't any USB 2.0 ports. The other complaints are mostly related to features that aren't yet enabled, like Flash and the microSD card slot.
For features, the Motorola Xoom has a 10.1″ display with a resolution of 1280 x 800.
It comes with a 1GHz dual-core Tegra 2 processor, 1GB RAM, 32GB onboard memory, Android Market access, Wi-Fi, Bluetooth 2.1 + EDR, 3G wireless from Verizon that will be upgradable to 4G in spring, it has a front-facing 2 megapixel camera for video chat and a 5 megapixel rear-facing camera that can capture 720p HD video.
Other features include 1080p HD video support, HDMI port, Flash support, microSD card slot, built-in gyroscope, barometer, e-compass, accelerometer and adaptive lighting. The battery life is expected to get 10 hours for video playback (reviewers are getting 8 with typical use). The device weighs in at about 730 grams (25.7 oz) and measures 249.1 x 167.8 x 12.9mm.
The guys at PhoneArena.com posted a very detailed 23 minute video review (below) of the Motorola Xoom that shows all the features and demos the new UI and included apps. The written review is very extensive too.
If you don't have time for that, check out Engadget's video review below it. Engadget's written review can be found here.
Another review worth checking out for tech geeks is over at AnandTech for details about performance and benchmarks.