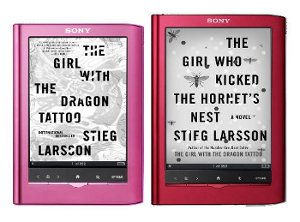 Sony issued a firmware update this past week for the Sony PRS-650 and PRS-350 ebook readers.
To update, all you need to do is plug your ereader into your computer with the USB cable and then open Sony's Reader Library software if it doesn't automatically launch when you plug the device in.
The Reader Library software will prompt you to install the new firmware when it opens, provided you're computer is connected to the internet of course.
The updates can also be downloaded from Sony support. Just select your model number and then your computer's operating system from the lists.
It only took a few minutes to update my PRS-350. The software version changed from 1.0.00.08100 to 1.0.00.14080. You can check the firmware version by going to settings then about.
The update appears to be minor, resolving the following two issues:
The Reader cannot open a purchased book and "Protected Page Error" is displayed
Annotations on a purchased book are lost
I had one purchased ebook from the Sony ebook store that would not open before the update and now it opens. Hurray!