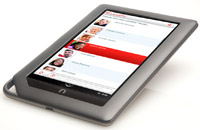 The much-awaited Nook appstore and firmware update to Android 2.2 with Flash support for the Nook Color looks like it might be just around the corner.
HSN has the Nook Color listed on their website accompanied with some interesting information if it is in fact true. Under the description for the Nook Color it says this:
Coming Soon "Sneak Peek" Updates

HSN will have the "sneak peek" of the new NOOK updates, which launches in April
The new updates will be sent out automatically if your device in connected to Wi-Fi
HSN customers will receive the update first when it's available

NOOK Apps™

Shop the NOOK Store for a wide variety of fun and engaging NOOK Apps
Download all types of apps to get even more out of your device
Some of the exciting new apps include Angry Birds, Lonely Planet Phrasebook and Drawing Pad

Adobe Flash

Expand your web experience by watching videos that use Adobe Flash

Built-in Email

Stay connected via built-in email, just like you do on other tablets and high-end smartphones
No need to go through Internet browser
Given this information, HSN appears to have first dibs for their customers who buy an over-priced Nook Color from them. The Nook Color sells from HSN for $299 instead of $249 like it does from B&N. The only difference is HSN has payment plan options and a 2GB micro SD card is included with purchase, plus 100 free public domain ebooks are pre-loaded.
Of course you can pick up a 2GB card from Amazon for less than $10 so buying from HSN makes little sense. If you can't afford $250 straight up and need payment plans then you should be spending your money on more important things anyway.
Regardless, it looks like the Nook Color appstore and new firmware is coming very soon.