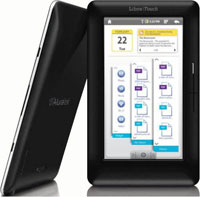 It looks like Aluratek has a new color ereader getting set to be released in mid-April, the LIBRE Color Touch, model number AEBK08FB. It's up for pre-order for $149 on Aluratek's factory outlet site, but not their main site for some reason.
Unlike Aluratek's other Libre color ebook reader, this one has a touchscreen and comes with WiFi.
Other features include a 7-inch TFT LCD display, email and web browsing, video and audio playback, 2GB of internal memory, SD card slot for cards up to 16GB, and support for portrait and landscape modes.
For ebooks the Libre Color Touch comes with 100 free public domain titles and supports Adobe DRM and PDF, EPUB, TXT, and FB2 formats.
What's strange is that Aluratek unveiled a new Libre Air ereader and Android tablet called Cinepad in January an CES. Both were supposed to be released in February but neither has been mentioned nor seen since. Now this Libre Touch surfaces out of nowhere.
Actually the Cinepad is up for pre-order from the same factory outlet site as the Libre Touch. It says early October release. They've got to be joking.