10 eBook Readers Under $120 – Budget eReaders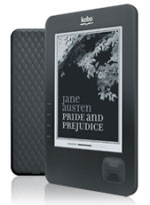 Over the past year, ereader prices have dropped considerably. This time last year the Kindle and Nook were both selling for $259. The original Kobo was released in May 2010 for the all-time low price of $149.
Now there are several ebook readers priced under $120, even E Ink devices with paper-like screens. If you've been holding off getting an ebook reader, now is the time to get one for cheap.
Here's a list of 10 ebook readers priced under $120. All of these are dedicated ebook readers with epaper screens, not color LCD screens:
1. $114 Kindle with Special Offers – Amazon's newest creation, the Kindle with Special Offers is $25 cheaper because the screensavers are ads and special offers. There's also an ad at the bottom of the homescreen, none while reading. (More info, Hands-on review – non ad version)
2. $119 Sony PRS-350 – Best Buy is selling the Sony Pocket for its lowest price to date. This is a 5″ ereader with a touchscreen and the new Pearl display. (Hands-on review)
3. $99 Kobo WiFi – Borders has the lowest price on the Kobo Wifi, a 6″ ebook reader that connects to Kobo for ebooks and also supports Adobe DRM ebooks and library ebooks. (Hands-on review)
4. $119 Refurbished Nook WiFi – The Nook Wifi sells for $149 new, but B&N always seems to have refurbished units available if you are looking for extra savings. (Hands-on review)
5. $104 Sony PRS-300 with Cover – The PRS-300 is Sony's older model Pocket Edition. It does not have a touchscreen or the new Pearl display but is still a dependable 5″ ereader and is bundled with a cover. (Hands-on review)
6. $79 Aluratek Libre – The Libre is a different type of ereader in that uses a greyscale LCD screen. Battery life isn't as good as E Ink ereaders, but the Libre has a loyal following for its low price and feature-set. (User reviews)
7. $119 Refurbished Kindle 2 3G – This is the second generation Kindle that lacks the new Pearl screen but it does have free 3G wireless. (User reviews)
8. $99 JetBook Lite – A monochrome LCD ereader like the Aluratek, the JetBook has a 5″ screen and 4 AA batteries. It supports Barnes and Noble's DRM for ebooks. (User reviews)
9. $119 Pandigital Novel Personal eReader – This ereader uses a different type of epaper screen technology that isn't as crisp as E Ink. However it does have a touchscreen, WiFi, a 6″ screen, and works with Barnes and Noble's ebookstore. (Hands-on review)
10. $99 Astak Mentor – A six-inch ebook reader. An older model that's been around for a couple of years, based on the Netronix EB600, the most rebranded ereader ever. No wireless. Supports Adobe DRM. (User reviews)