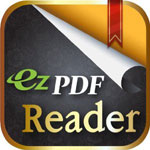 The marketing department at Amazon is really good. Every single day I find myself checking Amazon's website to see what the free Android App of the day is.
Today the free app is ezPDF Reader, the first ereading-based app Amazon has given away. It normally costs $0.99 and has 4.1 stars over 17 reviews.
I have not tried this app yet, but will write a review for it soon.
Here are the key features from the product description page:
Access your PDF documents wherever you are
Use Voice Reading to have documents read to you, available in English and Spanish
Select Text Reflow, Fit to Text Column, or Change Reading Direction to ease reading
Play embedded video and audio, and access live hyperlinks
Copy and paste text in PDF view and bookmark as you go
Gain quick snapshots of documents with the thumbnail view
Create folders and save all your PDF documents to your ezPDF Reader
smart search feature lets you scan an entire document for specific text
Night mode (black background, white text)
Open password-protected PDFs
The ezPDF Reader app requires page Android 2.1 or higher.