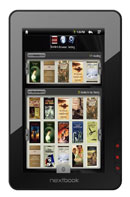 I received an email from E FUN yesterday that says they are going to add the Kobo ebook store and SlideME appstore to their line of NextBook Android tablets and ereaders.
Right now the NextBook tablets tie-in with the Borders ebook store, which is actually Kobo's store, so it looks like they are taking out the middleman in Borders.
Probably a good idea with Borders' bankruptcy and all, trying to make a better impression. You don't want customers to think they are going to have problems with their purchased ebooks if Borders eventually goes under completely, even though that's not the case (Kobo said they would take care of Borders' customers and ebooks if that happens).
The SlideME app will allow users to download apps via the SlideME app market, a 3rd party Android app store. The NextBooks previously came with an Appstore app, but the selection wasn't as good. This will make it a little easier to find and install apps on the NextBook tablets and ereaders. I'd suggest using Amazon's new appstore app as well.
Here's the press release:
E FUN Adds Kobo eBook Store and SlideME App Manager to New 2011 Nextbook Android Tablets

New Preloaded Software from Kobo and SlideME Enhance Nextbook's Fun and Ease-of-Use

WEST COVINA, CA – APRIL 14, 2011 – E FUN, a consumer electronics designer and marketer of fun, easy-to-use lifestyle products, is adding the Kobo eBook Store application and the SlideME App Marketplace to its 2011 line of sleek Nextbook Android tablets. Both will be available on the new Nextbook Android tablets that will start shipping in April.

"Our E FUN philosophy is to offer electronic products that are fun and easy to use," stated Jason Liszewski, Managing Director and VP of Sales for E-Fun. "The addition of Kobo's eBook Store and SlideME's SAM Application Manager do just that. They provide easy access to one of the largest collections of online reading material as well as a number of Android applications, many of which are not available on similar sites."

The Kobo eBook Store
The open-standard, Kobo eBook Store currently has over 2.3-million titles, including New York Times Bestsellers, award winners, classics and more. It is continually adding books, newspapers, and magazines. The company is geared toward helping book lovers enjoy the e-reading experience anytime, anyplace, much like E FUN is with its Nextbook line.

Nextbook users can download their favorite titles right from the comfort of their own home. Each Nextbook unit has 25 eBooks preloaded. The Kobo robust store platform handles sales, payment, and delivery. It handles multiple currencies and works with multiple languages.

Since the Border's eBook Store on previous Nextbook models is "powered by" Kobo, consumers who purchase a new Nextbook will still have access to their libraries of books that they purchased through Borders on the new Nextbook tablets.

The SlideME SAM Application Manager
The SlideME's SAM Application Manager eases app downloading and purchasing. It hosts nearly 3000 Android applications, some of which may not be listed in similar Android app sites, providing a wide range of selections. It enables users to search, download, purchase, subscribe, trial, rate, and uninstall applications.

SlideME includes much more information about an application than other Android app sites. Users can browse a gallery of screenshots for an application or even watch a video demonstration. Description size is not limited, allowing developers to tell an app's complete story.

The Nextbook Product Line
The E FUN Nextbook line of sleek, lightweight Android tablets is just that: the next generation of books that can be taken anywhere and read anywhere. The line currently includes four models: Next2, Next3, Next5, and Next6. The Next5 comes with an E FUN standard-shape, digital APEN writing tool. The Next6 incorporates a capacitive touch-screen displays that can be controlled with very light finger touches.

In addition to the two new apps, all models feature Google's powerful Android operating system, a TFT touch-screen color display, up to 8GB of built-in memory with support for a MicroSD card, built-in Wi-Fi technology, and a MP3/photo viewer.

E FUN Nextbook products are available at leading online sites. For a listing, visit www.nextbookusa.com.

About E FUN
As its name implies, E FUN is a designer and marketer of fun, lifestyle e-products that are easily accessible. While appreciated by techies, E FUN products are primarily designed for consumers who desire the latest technological products, but are more concerned with what they do, not how they do it. E FUN's ongoing product innovation focuses on making electronics and computing more fun! Initial product offerings from E FUN include the APEN digital pen and Nextbook Android tablets. E FUN is headquartered in West Covina, California.

For additional information regarding E FUN's brands, please visit APEN at www.apenusa.com; and Nextbook at www.nextbookusa.com