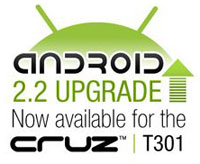 Now isn't this interesting. When I reviewed the Cruz Tablet T301 back in January, the Cruz Reader website specifically stated that it would not be updated to newer versions of Android, but lo and behold, there's a firmware update for the Cruz T301 that takes it from Android 2.0 to a much more favorable Android 2.2.
Upon reading the release notes, however, it's not as good as it sounds. It says that Adobe Flash will not be supported by this update, which is one the main advantages of Android 2.2. The only other release note it mentions is a change to the device's storage capacity by partitioning the internal memory, 2GB for apps and 2GB for ROM.
If you have a Cruz Tablet T301, you can install the new firmware update by visiting Velocity Micro's support center. The update is 109.8 MB in size. Unfortunately it doesn't look like any of the other Cruz models will be getting the upgrade.
According to the Cruz Blog, the update gives the Cruz T301 a slicker interface, faster web browsing, and "tons of improvements".
A commenter over at MobileRead that installed the new firmware says that it adds Amazon's new Android App Store to the device, which isn't surprising given the fact this particular model comes pre-installed with the Kindle Reading app. The commenter also said that Angry Birds would not install, neither would Cool Reader. So it sounds like the Cruz Tablet still suffers from some app incompatibility issues.
If you've tried the new firmware, let us know what you think.