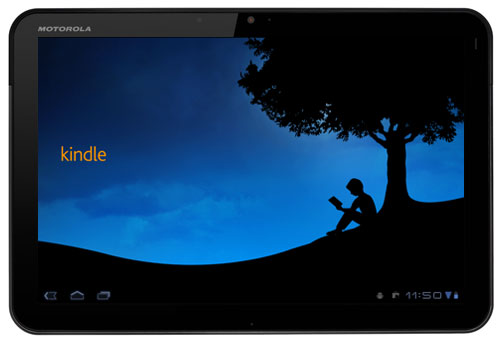 This past Friday Amazon released an updated version of their Kindle for Android app to add support for tablets. They added some new features as well, and some features specifically for Honeycomb tablets like the Motorola XOOM, Acer Iconia A500, and ASUS Transformer.
I went ahead and put together a video review of the Kindle 3.0 Android app in action on the Motorola XOOM, showing all the new features and new layout for the homescreen, Kindle Store, and periodicals.
Here's the list of new features included in the update:
New layout for newspapers and magazines, includes color images.
Pause and resume downloads.
Added built-in dictionary for offline reference.
New Kindle Store layout with quick access to personalized recommendations, customer reviews, etc.
Here's a list of existing features:
Access Amazon's ebooks, newspapers, magazines from within the Android app.
Auto-delivered periodicals.
Add notes, highlights, bookmarks.
Sync all content with other Kindle devices and software, including last page read, bookmarks, highlights, notes.
Look up definitions in the dictionary.
Add sideloaded DRM-free MOBI and PRC ebooks (just put them in the Kindle's folder).
Table of contents, jump to location, location slider.
Zoom in on images.
Text search.
Shelfari book extras.
Adjustable font sizes.
Color background color: white, sepia, black (night reading).
Adjust brightness (provided auto-brightness is turned off).
Search on Google and Wikipedia.
Volume key page turning.
Amazon did a decent job on the update, especially for Honeycomb tablets. The new store layout is really nice and so is the layout of periodicals, and being able to access the dictionary offline from within the page is a definite perk. They added several more text sizes and increased the margins for landscape mode to accommodate for larger screens. It's not perfect, however. Newspapers are slow to load. There is no two-page landscape mode and there's no way to adjust line height. It does not have fancy page-turn animations either.
I tried out the new update on a non-Honeycomb tablet and it did not include the same store layout, there were fewer text sizes available, newspapers didn't have the categories listed on the left, and the on-screen navigation is different—everything is accessed by tapping the menu button instead of on-screen selections. Overall, the new update is at its best on Honeycomb tablets.
Kindle 3.0 for Android Tablets App Review