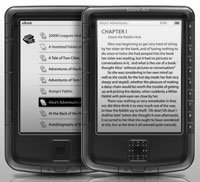 It looks like Aluratek has quietly released their new Libre Air eBook Reader. It was first revealed back in January at CES and was supposed to hit shelves in February.
Since then it's been all crickets from Aluratek. But now the Libre Air has suddenly made an appearance on Aluratek's website. It is selling for $129 and is listed as in stock.
The Libre Air is an improved version of the original Libre, which is now selling for as low as $69 on Buy.com. The Libre Air adds WiFi for connecting to the Kobo ebook store and a new curved design and button layout. Like the original, it has a 5″ non-backlit screen and supports PDF, TXT, FB2, EPUB, MOBI, PRC and RTF ebook formats, including Adobe DRM.
What makes the Libre Air unique is that it uses a reflective light LCD display instead of an E Ink screen like the Kindle, Sony Readers, and most other ebook readers. Generally the downside with these types of LCD screens is that battery life is usually measured in hours instead of weeks. Aluratek's website is rather misleading in this regard. It says the Libre Air can get up to two weeks of reading on a single charge. But if you look at the data sheet, it clearly states 20-24 hours of continuous reading with WiFI off and 2 weeks standby time.
Other features worth noting: the Libre Air comes with a collection of 100 free classic ebooks, it weighs in at just 6 ounces, there's a built-in MP3 player, and it has a microSD card slot for cards up to 32GB.
I'll be picking up one of these to review in the near future but need to catch up on a number of other reviews first.