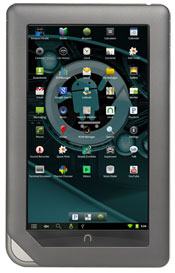 I've been hearing a lot of good things about a ROM for the Nook Color called CM7, short for Cyanogen 7. I've already tested the Honeycomb ROM for Nook Color and thought it was time to move onto something new, so today I put together a how to tutorial and video review for CM7 on the Nook Color.
If you are like most Nook Color owners and were less than impressed with the new Nook 1.2 firmware, then I'd highly suggest giving CM7 a try. It is one of the best and most stable firmwares out there for the Nook Color and essentially turns it into a full Android tablet running Android 2.3 GingerBread, complete with Google Apps and Android Market access.
The process of installing CM7 on the Nook Color is surprisingly easy, anyone can do it. And if you use a microSD card then you can easily switch back and forth to your regular Nook Color just by removing the CM7 memory card, a good way to have two Nook Colors in one!