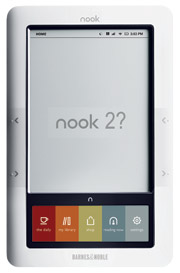 We've all been wondering when Barnes and Noble would finally update their original E Ink Nook—it's been out nearly 18 months now; that's pretty long by electronics standards—and now it looks like a new Nook, let's dub it the Nook 2, will launch on May 24th.
This news comes via a federal filing that Barnes and Noble Inc. submitted on Wednesday that contained a single sentence of text to comply with fair disclosure rules, essentially stating that B&N intends to announce the launch of a new ereader device on May 24th.
There are no further details for now, so we'll have to speculate. Sony and Amazon both use the new higher-contrast, zippier Pearl screens with their ereaders, so we all expect the Nook 2 to come with a Pearl display as well, unless it comes with some new type of screen technology like Mirasol.
The other question will be if B&N decides to remove the lower LCD pane that the original E Ink Nook has. That LCD pane reportedly adds considerable extra cost that keeps B&N from dropping the price as low as the Kindle.
The Nook 2 will most likely use a 6-inch screen like the original—that seems to be the most popular size. But a 7″ Nook 2 might not be out of the question either, given the 7″ screen on the Nook Color.
Maybe the new Nook will have a touchscreen. If they do it well like Sony did, it could be an advantage over the Kindle. It will most certainly come with WiFi, but 3G is a question. After all, the Nook Color doesn't come with 3G.
Regardless of the specs, it's good to know that a new Nook is finally on the way. In all likelihood the Nook 2 will probably be somewhat simple to keep cost down.
Source: WSJ