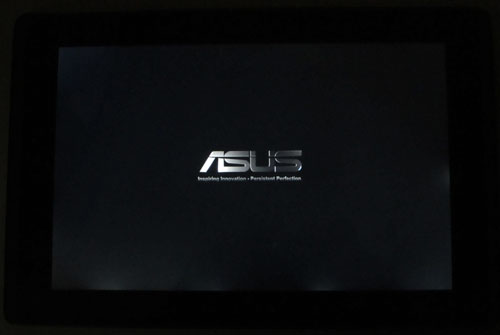 So the good news is that I was finally able to get my hands on an ASUS Transformer to review. It's a nice unit that has a lot of potential. The bad news is that I'm going to have to send it back because the screen suffers from light bleed issues and also has a little bit of touchscreen responsiveness problems to boot.
I noticed the light bleeding through right when I first turned the ASUS Transformer on. Light bleeding is characterized by patches of light showing through the screen where it is supposed to be totally dark. It is very noticeable in this instance because the bottom of the screen is always black where the Honeycomb task bar is located.
I ran a search online and it turns out that other people are having the same exact issue with the ASUS Transformer. In fact there's a thread about it over at the XDA forums with pictures that look exactly the same as my Transformer, with the light bleeding through in the same spots.
Unfortunately the light bleed issue isn't the only problem I've experienced so far. I've also been having a little trouble with touchscreen responsiveness at times. It isn't as responsive to quick, light touches as other tablets like the Motorola XOOM and iPad. And sometimes the upper-center of the screen doesn't react at all in certain instances.
Hopefully ASUS can get these issues straightened out because otherwise the Transformer is a great Honeycomb tablet for the price. The ISP screen is beautiful, images are very detailed, colors are vibrant, and the viewing angles are superb. Comparing it side-by-side with the Motorola XOOM, the screen difference is more noticeable than I expected.
Right now I'm working on putting together the ASUS Transformer written review. I should have it posted sometime next week. Until then, here is an in-depth look at the ASUS Transformer in a video review.
Hands-on ASUS Transformer Video Review