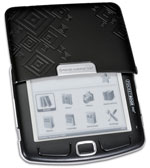 Remember a few weeks ago when the PocketBook 360 Plus was videoed playing Doom II? Well now the PocketBook 360 Plus is available for order, although it doesn't look like Doom is included.
The 360 Plus is an upgraded version of the original PocketBook 360; both share the same exact design. The Plus model adds WiFi for downloading ebooks and news feeds directly to the device itself, and a web browser for basic web surfing.
Other improvement include a better screen with support for 16 shades of gray instead of 4—unfortunately it is still a Vizplex screen, though, instead of the higher-contrast E Ink Pearl screens—and the addition of a faster processor and re-vamped user interface more akin to the PocketBook Pro models.
The PocketBook 360 Plus is a 5″ ebook reader. It comes with 2GB of internal storage and has a microSD card slot for cards up to 32GB. It supports the following formats: Adobe DRM, EPUB, PDF, FB2, FB2.zip, TXT, RTF, HTML, PRC, CHM, DJVU, DOC, TCR, JPEG, BMP, PNG, and TIFF.
The PocketBook 360 Plus comes in black and ivory and is selling for $149 from PocketBookReader.com and $169 from eBay.
Some folks have already received their 360 Plus. Here's a first impressions post over at MobileRead.