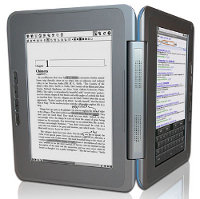 Sad news for owners of the Entourage Edge. As of May 21st, Entourage Systems has closed the doors on the Entourage Edge store, according to a note on Entourage's homepage.
This doesn't come as much of a surprise given the fact that the Entourage Pocket Edge has been deeply discounted of late, and the fact that I noticed it and the original Edge had disappeared completely from Entourage's website several weeks back.
Entourage is now suggesting that Entourage Edge owners purchase and download ebooks from the new Google eBooks store, and Android apps from Amazon's new appstore.
If you purchased something from the Entourage Edge store and have not downloaded it yet, you have until May 27, 2011 to do so. At that time the Entourage Edge store will cease operations completely.
It's too bad that the world's first dual-book has seen its last days. With an E Ink screen on one side and an LCD screen on the other, the Edge was a device like no other.