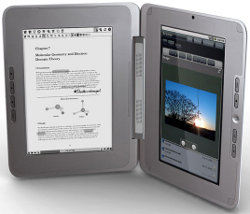 I've been keeping my eyes on this for the past few weeks and it appears that there's definitely something fishy going on with Entourage Systems, makers of the the Android-powered Entourage Edge and Pocket Edge.
For starters, both devices have been completely removed from the Entourage website. Clicking on the device tab takes you to the "where to buy" page. And if you enter the URL for the device pages manually, it automatically re-directs to another page.
Second, the Entourage Pocket Edge is currently selling for just $199 at Amazon, half the price it originally started selling for back in November when it was first released.
The last thing, and this points to a more ominous outlook, there haven't been any posts on the Entourage forum since December. And no updates have been made on Entourage's Twitter and Facebook pages since January.
Hopefully things aren't as bad as they look. Maybe Entourage is clearing stock and is getting set to introduce a new device. Maybe they are in the process of updating their website and that's the reason no Edges can be found. Who knows.
Both the Pocket Edge and original, although very unique and suited for specific niche markets, received decent reviews. What's different about the Edge is that it has two screens, one E Ink screen with a Wacom touchscreen and a second LCD touchscreen. It's essentially an ebook reader and tablet combined. Here's a video for a closer look…
Via: MobileRead