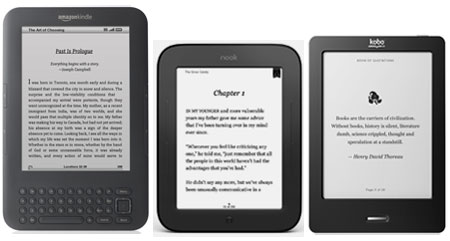 There are three major wireless ebook readers vying for everyone's attention as 2011 marches on, the Kindle 3, New Nook, and Kobo Touch.
It has been rather quiet on the dedicated ereader front for the past few months. There have been very few new ebook readers announced and even fewer released. Most everyone is focused on tablets and color ereaders this year.
And then suddenly Barnes and Noble and Kobo both announced new touchscreen ebook readers in the same week, and Amazon countered with a new $164 ad-supported Kindle 3G to add to the mix since their $114 Kindle WiFi has been such a success.
With all these choices it can be difficult to remember the differences between each one, so I put together this table below outlining the key features for each device. I did not include battery life because of the lack of credibility for the numbers. Needless to say, most E Ink ereaders only need to be charged once every few weeks.
Once the New Nook and Kobo Touch are officially released, I'll post head-to-head reviews and comparison videos between them and the Kindle 3, so stay tuned for more.
Kindle 3 vs New Nook vs Kobo Touch
| | Kindle 3 | New Nook | Kobo Touch |
| --- | --- | --- | --- |
| Screen | 6-inch E Ink Pearl | 6-inch E Ink Pearl | 6-inch E Ink Pearl |
| Touchscreen | No | Infrared Touch | Infrared Touch |
| Wireless | WiFi, free 3G optional | WiFi, free at AT&T hotspots, B&N stores | WiFi |
| Weight | 8.5 oz | 7.48 oz | 7.1 oz |
| Dimensions | 7.5″ x 4.8″ x .34″ | 6.5″ x 5″ x 0.47″ | 6.5″ x 4.5″ x 0.4″ |
| Memory | 4GB, no expansion | 2GB, mircoSD cards up to 32GB | 2GB, mircoSD cards up to 32GB |
| Audio | AAX, AA, MP3, text to speech, speakers, headphone jack | None | None |
| Web Browser | Yes | Yes, but buggy | Yes |
| Periodical subs | Yes | Yes | Yes |
| Ebook Stores | Amazon, DRM-free stores | B&N, other EPUB stores, DRM-free stores | Kobo, other EPUB stores, DRM-free stores |
| Borrow Library Books | Pending | Yes | Yes |
| Landscape mode | Yes | No | PDFs only |
| Notes/Highlights | Both | Both | Highlights |
| Dictionary | Yes | Yes | Yes, for Kobo's books |
| Ebooks | AZW, PDF, TXT, MOBI, PRC | EPUB, PDF, Adobe DRM | EPUB, PDF, Adobe DRM, TXT, RTF, HTML, MOBI, CBR, CBZ |
| Font Styles, Sizes | 3 styles, 8 sizes | 6 styles, 7 sizes | 2 styles, 17 sizes |
| Price | $114-$189 at Amazon | $139 at B&N | $129 at Buy.com, Indigo |