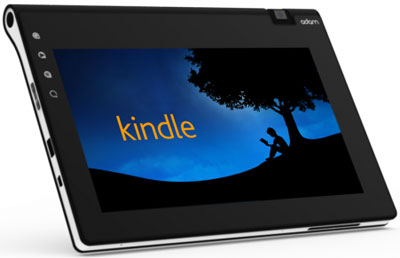 Yesterday Notion Ink issued an over-the-air update for the Notion Ink Adam and also started taking orders once again.
Even though the Adam has pretty much been a lame duck up till this point, I decided to install the new firmware to see how well it works.
Most of the changes are cosmetic. The leaf system has a new layout and all the red colors have been changed to blue. They removed the option to view the list of apps on the homescreen (hold down launcher icon). Instead everything now relies on the app slider window and Eden leaves. I have been getting less "Force Closes" with the new firmware so that is a plus.
The web browser, one feature of the Notion Ink Adam that I always liked, has been butchered. There's now some kind of bug that makes the page appear blank; you have to rotate the screen for the webpage to appear—seriously, how did they not notice that.
Notion Ink added a few new apps to the Adam, the Dolphin web browser (good thing now that they broke the NI browser), the Amazon Kindle app, a new music player called Chords, and a to-do list. Since the Kindle and Dolphin browser could easily have been added to any Adam before the update, it's really not as big of a deal as they make it seem.
What ever happened to the Notion Ink Weather app that was promised months ago? There's still no Android Market app either, of course. And Flash doesn't come pre-installed. But the update includes over 150 changes, so a lot must have been done behind the scenes.
Anyway, this update is going to be short-lived. Notion Ink says that they are now focusing all their attention on providing a Honeycomb update for the Adam. They expect the update to be released on June 27th—I wouldn't hold my breath.
Notion Ink Adam with New Firmware Review