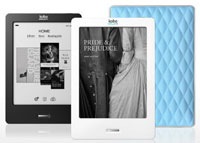 Remember last week when Kobo announced the new Kobo Touch eReader and said that it would start shipping in early June in time for Father's Day?
Well, that's not exactly true. If you live in Canada, perhaps, but if you live in the United States you likely won't be able to get your hands on a Kobo Touch until the end of July or the beginning of August.
I noticed this bit of disappointing news while attempting to pre-order a Kobo Touch from Borders
, the only US site that is currently offering the Kobo for pre-order. It states on the description page that the Kobo Touch releases on July 30th, 2011.
Knowing that Borders is notorious for having errors on their website, I emailed Kobo and Borders both to get clarification on the release date in the US, and according to both sources the July 30th release date is correct, and that Kobo will be releasing the Kobo Touch in Canada in June, not the US.
I'm disappointed in Kobo because their press release and everything they've said up until this point makes you believe the Kobo Touch will be available in June. In fact, here's a quote from the press release that announced the Kobo Touch:
"Starting today, the new Kobo eReader Touch Edition will be available for pre-order at leading retailers across North America including Indigo (www.indigo.ca), Best Buy (www.bestbuy.ca), Walmart (www.walmart.ca), and Borders (www.borders.com) for an MSRP of $129.99 USD and $139.99. The new eReader will ship in early June, in time for Father's Day and Grad gifting, and includes a $10 Gift Card."
No where are there any caveats about a delayed release in the US.
Even worse that that, on Borders' website there's a sticker on the Kobo Touch that says "Get one for Dad", which clearly insinuates that it will be released before Father's Day. Sure, get one for dad, but it won't arrive until 6 weeks after Father's Day. Geniuses.
Kobo may have beaten Barnes and Noble to the punch in announcing their new touchscreen ebook reader, but Barnes and Noble is going to have the last laugh. The New Nook Touch starts shipping next week. There's going to be a lot of people going with one of them instead of waiting 2 more months for the Kobo Touch to arrive.