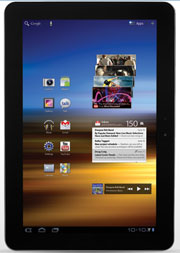 Today marks the release of Samsung's much-anticipated 10.1″ Galaxy Tab, Samsung's first Android Honeycomb tablet. It comes in two color varieties—black and white—and there are four different models, with 16GB and 32GB variations, each are available with WiFi-only or with the option of 4G LTE from Verizon.
The price-points for the 10″ Galaxy Tabs come in at $499 for the 16GB WiFi model, $599 for the 32GB WiFi version, and $529 and $629 for the 4G models, which require a 2 year contract with Verizon, of course.
A limited quantity of the 10″ Galaxy Tabs were sold from the Union Square Best Buy store in New York. For everyone else, the Galaxy Tab is up for pre-order from Best Buy's website with a June 17th release date. Amazon and other websites have the 10″ Galaxy Tab up for pre-order too.
The Galaxy Tab is very similar to all the other 10″ Honeycomb tablets. It has a 1280 x 800 resolution display, runs Android 3.1, has a Tegra 2 dual-core processor, WiFi, Bluetooth, two digital cameras—a 5MP rear-facing camera and a 3MP front-facing camera, GPS, and so on.
What separates the 10″ Galaxy Tab from the pack is the fact that it is the thinnest tablet in the world, thinner than the iPad 2 even. It is a slim 8.6 millimeters. It ain't too heavy either, at 1 and a quarter pounds (565 grams). About the only knock against the Galaxy Tab is the fact that it doesn't have a memory card slot.