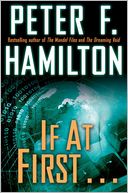 Here's another list of free ebooks from Barnes and Noble for Nook ereaders and Nook software.
As usual, most of these ebooks are likely free for a limited time only, so pick out the interesting ones now before they expire.
Subscribe to the site's RSS feed to keep updated on future free ebooks and book offers from Barnes and Noble.
Free Nook Books
If at First . . . (Short Story) by Peter F. Hamilton.
It starts in 2007 with a break-in. The victim: Marcus Orthew, the financial and technological genius behind Orthanics, the computer company whose radical products have delivered a one-two punch to the industry, all but knocking PCs and Macs out of the ring. The perpetrator: a man obsessed with Orthew. Just another simple case of celebrity stalking-or so everyone assumes at first, including Metropolitan Police Chief Detective David Lanson. But when Lanson interviews the suspect, he makes a startling claim: Orthew is from the future. Or, rather, a future-a parallel timeline. Thus begins the ride of a lifetime for Lanson, as his pursuit of the facts tumbles him headlong down a rabbit hole-and the hunter finds himself hunted.
Witches 101: A Witches of East End Primer by Melissa de la Cruz
In this primer, you'll meet the three Beauchamp women – Joanna, Ingrid, and Freya – learn a little bit about their special powers, and even get some tips so you can cast a few spells of your own.
Why Math Isn't an Awful Nerd by Jason Marshall
PIn "Why Math isn't an Awful Nerd" Jason Marshall, the guy behind the incredibly popular Math Dude's Quick and Dirty Tips podcast, shows readers how insanely easy and downright elegant math can be. Marshall focuses on perfect squares and patterns (hint: they're called perfect squares for a reason), and clearly—and most importantly concisely—explains step-by-step how numbers work. Multiple games and puzzles re-enforce the concepts Marshall presents, making for a crazy fun, accidental learning experience. Perfect for anyone looking for a leg-up on their algebra homework, that won't put them to sleep.
One of the Boys by Kimberly Pauley
A noir-ish short story about a would-be gangster and what happens when he gets the chance he's been looking for to prove himself to the Big Boss. But does he have the stomach for it? Better yet, is being "one of the boys" what he had in mind?
Circle of Friends Cookbook – 25 Dip & Spread Recipes by Gooseberry Patch (Compiler)
Dips and spreads for every occasion! Try Robert's Corn Dip, Chocolate Chip Cheese Ball, Vickie's Favorite Guacamole and Undefeated Bacon Cheese Dip!
L.A. Noire: The Collected Stories by Rockstar Games (Editor)
1940s Hollywood, murder, deception and mystery take center stage as readers reintroduce themselves to characters seen in L.A. Noire. Explore the lives of actresses desperate for the Hollywood spotlight; heroes turned defeated men; and classic Noir villains. Readers will come across not only familiar faces, but familiar cases from the game that take on a new spin to tell the tales of emotionally torn protagonists, depraved schemers and their ill-fated victims.
Kaplan MCAT 3D by Kaplan
Available free from June 6 – July 1. Kaplan MCAT 3D: Organic Chemistry Reaction uses interactive animation to show the geometry and sequence of an intermolecular ring closure via a Claisen condensation. It is this month's feature from KaplanLabs.
The Importance of Looking Right by Graham Murray
When Norman Winslow, an Englishman in New York, has a run-in with a Yellow Cab, he gets more than he bargained for: he comes face to face with Death. Literally.

Norman then finds himself in a battle of wits for his life. The question is: Does he have what it takes to evade Death and see his pregnant wife again?

This is not the proverbial chess game favoured by so many trying to cheat Death. No, in true salesman style, the intrepid Norman pits his wits against Death's ability to perform a few simple sums!
The Gift by Graham Murray
When Death and his sidekick, Azrael happen upon a child suffering at Christmas time, Death decides to give her the greatest gift of her life, much to the chagrin of his partner.

But, it's only a loan.
The Exchange by Graham Murray
A passerby on London's Tower Bridge happens upon a distraught man and decides to help him.

When he discovers the man's intentions, he is left in quandary.
What should he do?

Left with little choice, the man decides to make the ultimate sacrifice . . . for a total stranger. How far would you go to help a complete stranger?
Master of All Time by Kurt Ulmer
An Australian public servant had the audacity to tell world leaders to disarm. While he was around, there would be no nuclear war. He held all the trump cards and so would his son. Penberthy was a happy man when the wall fell, the U.S.S.R. imploded and the Iron Curtain rusted away. The world was safe and he had a son in high school. His son really mattered.
Extramarital by Colin Marks
This latest short story from British writer Colin Marks is a light comedy set in a British pub following the conversation between a group of friends, one of whom has discovered his wife may be having an extramarital affair.
Drop Zone by Graham Murray
When social worker Virginia Poole receives a call from a previous patient's landlord, she is unaware that it will take nerves of steel and a strong stomach to deal with the situation that unfolds.

Drugs, poverty and children in distress are all in a day's work for Virginia, but what happens on this day no-one could have foreseen.

Based on actual events.
Dixie (I Can Read Book 1 Series) by Grace Gilman , Sarah McConnell (Illustrator)
Emma and her puppy, Dixie, are inseparable after-school friends.

But when Emma starts preparing for her class's production of The Wizard of Oz, Dixie feels left out. She wants to romp and play, but all Emma wants to do is memorize her lines in peace and quiet. Dixie does not understand.

Dixie, the mischievous puppy who is trying to be good, will be embraced by beginning readers.
A Family of Her Own by Kimberly Pauley
Jana longs to be a mother and a wife, but her crippling shyness has kept her from both. When a new virtual reality system promises everything she has ever wanted, she takes the plunge. But is it everything she hoped for?

A science fiction short story about what might happen when virtual reality becomes your reality…and the dangerous consequences.