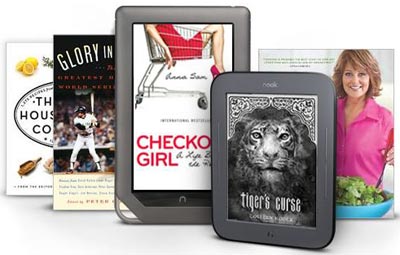 Barnes and Noble rolled out a new marketing campaign that started yesterday. If you take an ereader into a Barnes and Noble retail store and show it to the clerk, you can get a free 2GB microSD card with 30 free ebooks on it with the purchase of a Nook Touch, Nook Color, or Nook 1st Edition.
You don't actually have to give the ereader away, just show it to the staff. Barnes and Noble are confident customers will want to upgrade to the new Nook when comparing it side-by-side with another brand.
According to the fine print, this is a limited time offer and B&N's definition of an eReader does not include mobile phones, laptops, or general purpose tablet computers.
Here's the list of free ebooks, a $315 value according to Barnes and Noble.
Little Women
Bedside Baccalaureate: The Second Semester
AARP® Crash Course in Finding the Work You Love
21st Century Crossword Puzzle Dictionary, The
Walden; Or, Life in the Woods
Creating Your Best Life
Flawless
Checkout Girl
Susie's Sun Signs
Soccer: The Player's Handbook
Clean Start
It's a Jungle in There
Glory in the Fall
Tiger's Curse (The Tiger Saga, Book 1)
Classic Starts™: The Adventures of Robin Hood
Love Virtually
My Boyfriend Wrote a Book About Me
Cristina Ferrare's Big Bowl of Love
Other Rembrandt
King Whisperers
Summer in a Glass
Jessica Lost
Secret Garden
Aesop's Fables
Don Quixote (Barnes & Noble Classics Series)
Robinson Crusoe
Good Housekeeping Cookbook, The
Country Living The Mom's Guide to Running a Business
Empowerment
Know Your Rights