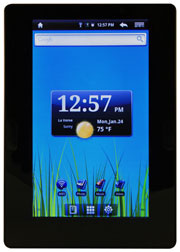 The folks at E Fun were nice enough to send out a sample of the NextBook Next6 for review, an Android powered tablet/ereader hybrid. So here it is, the NextBook Next6 review.
Sorry but I don't have the usual hands-on photos posted. For some reason my camera has problems focusing on the Next6's screen. All the pictures come out looking terrible so I had to use E Fun's marketing photos, which aren't much better. I'll try to take some photos again later today when the lighting is better.
Update: I was able to get some decent shots so I added 10 pictures to the review.