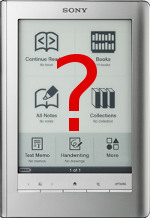 With the recent disappearance of the Sony Reader PRS-650 and PRS-950 on Sony's website and most retailers, it is apparent that Sony is getting set to launch a new line of ebook readers, as they tend to do in the third quarter of recent years.
Today Bloomberg posted an article that says the new Sony Readers will be out in August, according to Phil Lubell, vice president of digital reading for Sony.
The new Sony Readers are expected to cost between $180 and $300, which is the same as the current pricing structure. They are expected to come with WiFi for downloading ebooks directly from Sony's ebookstore, as well as other software and hardware upgrades—no juicy details yet unfortunately.
Sony is also planning the upcoming release of their own line of tablets, and wants to continue selling ereaders as long as tablet pricing remains like it is.
"We think there will still be a market for dedicated readers as long as tablets remain in the $500 price range," Lubell said.
So what will the new Sony Readers bring to the table? In all likelihood they will be 90% the same as they are now—E Ink Pearl screens, Neonode touchscreen, support for Adobe DRM, on-screen notes, highlights, dictionary, support for audio and memory cards—but with a few much-needed upgrades to compete with the likes of the new Nook, Kobo, and of course the Kindle.
On the upgrade front, the Sony Readers could greatly benefit from WiFi and more styling options for ebooks. There's only one font type and no way to modify the layout of the page with the current models, not unless you use Calibre to setup the CSS of a DRM-free ebook yourself. The Sony Readers also need better landscape mode. The PRS-950 does landscape well, but the others are pretty bad, repeating sentences on every other page.
Of course there are a number of other details that could be addressed as well. What upgrades do you think the new Sony Readers will have?