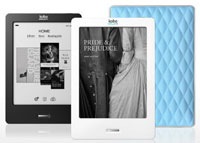 The Kobo Touch keeps getting new features all the time. Kobo issued another firmware update this past week, version 1.9.6, as well as an update for the Kobo desktop software.
Kobo also added PayPal to their website as another option when paying for ebooks, which can save on extra charges for some customers who had to pay foreign transaction fees with each purchase since Kobo is based in Canada.
The new firmware for the Kobo Touch adds dictionary support for sideloaded ePub ebooks—previously the dictionary only worked with ebooks from Kobo—and you can now open the menu to access the dictionary to type in words with the keyboard to search definitions.
Other updates include sharing reading awards with Reading Life on Facebook, as well as highlighted passages, and another option was added to the advanced settings menu for turning on and off the small page numbers that sometimes appear in the margins of some ePub ebooks.
A Kobo Sketch app was also added, accessible from the settings menu under "Extras". It is a basic drawing app that allows you to use your finger to draw on the screen. The sketches gets saved as JPG files.
Props to Kobo for continuing to improve the Kobo Touch with these firmware updates and new features. This is at least the third firmware update since the Touch was released, and each update has added something new. Barnes and Noble released the New Nook about the same time, a little sooner in fact, and they haven't issued any firmware updates for it yet.
The Kobo Touch has changed a lot since I first reviewed it so I thought I'd put together another video showing the new features added with this update and the all the new font and styling features that were added with the last update.
Kobo Touch New Firmware Features