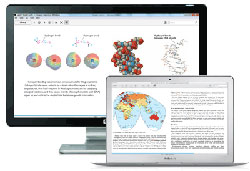 Today Amazon announced the launch of their new Kindle Textbook Rental service, where students can rent textbooks to read on Kindle apps and Kindle devices.
The Kindle Textbook Rental service allows students to choose exactly how long they want to rent a textbook, anywhere from 30 days to 1 year. And students can choose to extend the term of a rental in increments as little as one day, and can also choose to buy the textbook at any time.
The main benefit of this is the savings of renting versus buying. Amazon claims that renting for 30 days can save up to 80% off the list price. Another benefit is that all notes and highlights are stored in Amazon's cloud so they are always accessible, even after the rental expires.
But the bigger question is, how functional are the textbooks going to be on Kindle devices? The answer thus far has been not so good. Even the larger Kindle DX hasn't shown that it can be effective in the Education sector because of limitations with the software and hardware, mostly software.
Amazon's new Textbook Rental program doesn't change anything from a functionality perspective, it doesn't make textbooks any more usable on Kindle devices or software than they were before, so it remains to be seen how much of an impact Kindle textbook renting will have. Hopefully this means Amazon will continue to develop the Kindle platform to make it more useful for textbooks.