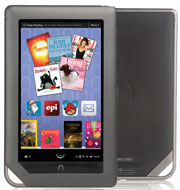 Refurbished Nook Colors are on sale yet again, this time for one day only at 1saleaday.com. They are selling them for $179.
However, that website is known to take their sweet time shipping products so if you are in a hurry to get it (let's face it, who wouldn't be) Buy.com is selling them for $189 with free shipping.
Normally refurbished Nook Colors sell for $199 from Barnes and Noble directly and on eBay so that's not a huge discount but is still a really good deal, especially if you opt to turn the Nook into a full-fledged tablet with the CM7 ROM.
I've been messing around with the Nook Color again here lately playing some games (My Paper Plan 2 is very addicting) and it's still one of the best tablets for the price, especially since it has a higher-quality screen than similarly-priced tablets. And in case you missed it, there's even a Netflix app that works on it now. It's a little choppy at first but tends to smoothen out after its going for a minute or so.