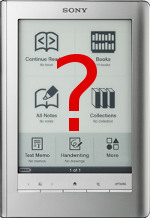 According to an article posted by The Register, Sony has scored a major deal to get the entire series of Harry Potter ebooks bundled onto its new upcoming ebook reader.
Not only that but Sony is paying JK Rowling millions for early electronic rights so that they can offer the Harry Potter ebooks exclusively on the Sony Readers, and will be the only way to get Harry Potter ebooks in 2011 (Harry Potter ebooks will be sold from the Pottermore website for all ereaders but not until 2012).
A lot people have been questioning Sony's commitment to their line of ebook readers, some speculating that Sony would stop making them entirely. Having early exclusive rights to the Harry Potter series, if true, is going to be huge for Sony, enough to propel the popularity of their ebook readers to new heights, especially if the new models deliver on features and come at a competitive price.
According to the The Register, the new Sony Reader will hit shelves sometime in November, a month after Pottermore officially goes live. Pottermore is sponsored by Sony, so some kind of Harry Potter tie-in was expected with their new ereaders anyway.
Apparently the Sony Reader bundle will include a letter from JK Rowling, a subscription to Pottermore, and a themed case in addition to the seven Harry Potter ebooks.