Review: Pandigital Nova Android Tablet with B&N eBooks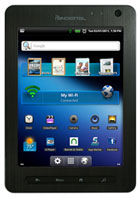 Here's the link to the Pandigital Nova Review, which includes a ten minute video showing the Nova in action.
The Pandigital Nova is one of four new tablets from Pandigital, and seems to be sold exclusively from Best Buy at this point. There's also the Pandigital Planet that sells from various retailers. It is very similar to the Nova; I'll be posting a review for it next week, then a comparison between it and the Nova. Also, I plan on posting a tutorial for installing the Android Market, so stay tuned for more details.