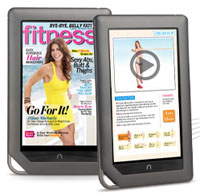 Today Barnes and Noble announced that they are adding more popular periodicals to their Nook Newsstand, including People, Time, Sports Illustrated, Fortune, Parents and Fitness magazines.
Not only that but they are going to offer special interactive editions optimized specifically for the Nook Color to include all the print magazine content along with enhanced features like embedded audio and video.
Here are the key details from the press release:
These NOOK Magazine special editions offer customers all of the great content in the current print edition, along with a host of extras, built right into the pages to get more of the story – from videos and audio podcasts, animations, photo galleries and other bonus features. With these embedded multimedia enhancements, magazine lovers will be able to watch celebrity interviews, see the week's sports highlights, listen to podcasts, take quizzes, get how-to's on arts and crafts, and even learn new exercises with fitness videos to stay in shape. These special editions also feature a portrait-centric reading experience that's fun and simple to use, as well as the ability to get to desired content quicker. Just tap the article promoted right on the magazine cover or in the table of contents.
Also, if you already have a print subscription to People, Time, Sports Illustrated or Fortune, you can get the Nook Newsstand versions on your Nook Color at no extra cost.
In addition to these new interactive magazines, Barnes and Noble has issued a firmware update for the Nook Color. The update can be downloaded from Barnes and Noble's support page now, or you can wait for the over the air update to be pushed to the Nook Color over WiFi beginning this week.
The firmware update is mostly for adding support for the new interactive magazines, but the update also adds parental controls to disable the web browser and other undisclosed performance improvements.