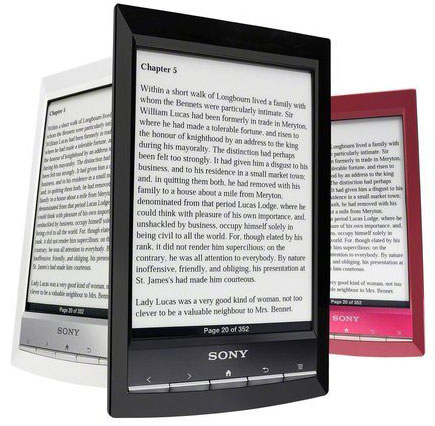 Someone over at MobileRead happened across a listing of the new Sony Reader PRS-T1 on a Dutch retail website, complete with pictures and specs.
Not surprisingly, the PRS-T1 features a 6 inch E Ink Pearl display, very much like the Sony PRS-650. The screen supports 16 levels of gray and packs a resolution of 800 x 600.
As you can see from the pictures, it looks a lot like Sony's current ereaders, but has a curved edge on the bottom. Another change, it is made from plastic instead of aluminum, which helps reduce the weight down to just under 6 ounces (168 grams); the PRS-650 weighs over 1.5 ounces more. It also looks thinner, but no dimensions are given.
Other changes include the addition of WiFi (no surprise there) and a multi-touch screen for pinch zooming and other functions. I imagine it uses the same infrared touchscreen technology from Neonode as the previous models did since Neonode's technology supports multi-touch, the other Readers just weren't setup for it. And since it has WiFi, you can count on some sort of web browser too, since the PRS-950 has a basic browser already.
When it comes to memory, the PRS-T1 comes with 2GB internal, plus it has a microSD card slot (it looks like they've dropped the full size SD card slot).
Other features mentioned include 12 built-in dictionaries and Wikipedia and Google search. For the most part, it looks like it is going to be 90% the same as the PRS-650. WiFi, obviously, is the main addition. And it certainly appears as if the Android rumors were indeed false (Update: It does run Android).
Now for the not so good news. The listing mentions the usual features, which includes changing the font size, adding notes with a stylus, highlights, etc. But there is no mention of changing font type or adjusting the margins and line spacing—features that Sony's Readers have always lacked, although you can add more fonts and adjust layout manually for DRM-free ebooks using Calibre.
Well, it's good to see the new Sony Reader PRS-T1 actually exists. More details to come. Make sure to subscribe to keep updated.