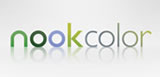 If you have young children and a Nook Color, you might want to download these two free interactive kids' books listed below that Barnes and Noble recently added to the Nook Color's app store.
These interactive kids books are from Touchybooks and include colorful illustrations, touchable animations on each page, music, and narration. B&N sells several of these types of interactive apps from Touchybooks, most cost $1-$2, but these two are free.

Moon Secrets is the best bedtime story for kids. Enjoy this fascinating story for kids that initiates a magical world of dreams.
Through this magnificent interactive story with touchable animations and a sweet mystical narration, children can enjoy, play, learn and exercise their imagination.
What is the moon to a child? In an original story with beautiful, dreamy illustrations you can discover the moon through the eyes of a young child. This mystical and sweet narration created for children and offering audio and visual texts inspires pleasant thoughts and dreams for anyone…

This story is crammed full of magical fantasy, adventure and cotton candy! It's the sweetest and most colorful treat to hit TouchyBooks yet. Let your child's imagination run wild with an explosion of color and creativity!
One night, two very lucky children staring out of their window, get wrapped up and swept away by a giant cloud of cotton candy! After falling down a rainbow colored tunnel they find themselves in the mysterious candy factory.
Fuzzy little creatures unravel all the extraordinary secrets of the factory, a whole new world that you can't imagine… where NOTHING is impossible! The Candy Factory is real overdose of eye candy! It's packed with elaborate visual effects, touchable objects that burst into all things bizarre and eccentric!…