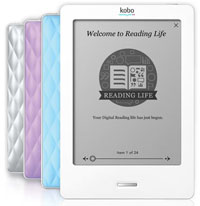 Kobo is showing off there Kobo Touch ereader in Berlin at the IFA conference. Right off the bat, Kobo announced that the Kobo Touch will be available in Germany starting October 1st.
The German-specific Kobo Touch will be sold from "leading German retailers" and will sell for a competitive 149 euros. Kobo also claims they already have over 80,000 German language ebooks, so that should be a pretty good starting point.
Kobo's German ebook store is expected to officially launch sometime in early October at www.kobobooks.de. Right now Kobo carries several thousand German titles in the Deutsche section at Kobo.com. Apparently Kobo already offers free German-language apps for the iPad, iPhone, and Android.
Aside from the Kobo Germany news, Kobo also just issued a firmware update for the Kobo Touch that adds support for multiple foreign languages, along with other improvements.
Here's the list of what's new with the Kobo Touch 1.9.10 firmware:
Set your preferred language.
Translate words in a book into other languages.
Support for free ebooks from Internet Archives.
Revised Extras page under settings.
Various bug fixes and performance improvements.
The biggest change with the new 1.9.10 firmware is of course the addition of support for foreign languages. In the settings menu, there's the option to switch the interface language to the following:
English
Francais
Francais (Canada)
Deutsch
Nederlands
Italiano
Espanol
Plus, even better, the Kobo Touch can now translate words within ebooks to all of the above languages. This not only works for Kobo ebooks, but sideloaded ebooks too.
The new extras page is a nice improvement as well. It puts everything in one place—the sketchbook, Sudoku, and web browser—so you don't have to waste time scrolling through the pages to open what was before the hidden Sudoku game.
In addition to the Kobo Touch firmware update, Kobo also updated their desktop software to version 2.1 (they sure are busy). Here's the list of changes for it:
Choose your preferred language under Tools (English, German, Spanish, French, Italian, Dutch).
Translate words in a book into other languages.
Use the application to shop, browse your library and read books while syncing.
Various bug fixes and performance improvements.