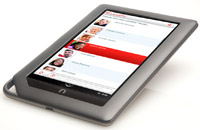 According to an article at Digitimes, Barnes and Noble is getting set to release a Nook Color 2 in September, and it will have a 7-inch touchscreen like the first.
This is based on the fact that Barnes and Noble has ordered parts for a new Nook Color. Here's a quote from the article that explains more:
TPK Holding will supply touch panels used in the e-bok reader, while Inventec will be responsible for the assembly, the sources said. Pegatron is also said to have received orders for Nook Color 2. It is reported that Inventec and Pegatron would be able to supply two to three million units of Nook Color 2 by the end of 2011.
A new Nook Color in 2011 makes a lot of sense, and as I've said before, I think it is something that Barnes and Noble needs to do to compete with the likes of the upcoming Amazon tablet, which is also expected to be a 7″ Android tablet, at least according to other rumors Digitimes reported on.
But then again there's this one sentence from the article that makes no sense, and makes you wonder if Digitimes has any idea what they are talking about, "E Ink will continue to supply e-paper backplanes for Nook Color 2, according to the sources."
The Nook Color doesn't use an E Ink backplane, never has and never will. That's what the monochrome Nook Touch uses. The Nook Color uses an LCD screen. Now if they could find a way to stick an E Ink screen behind a color LCD panel, that would be something new, but that's just a pipe dream.
Anyway, if the rumor is indeed true, Barnes and Noble will make an announcement within the next few weeks. Subscribe to keep updated.