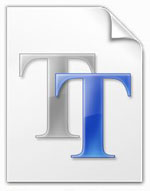 Here's a list ebook readers and the font styles each one offers. Now that ebooks have arrived to supplement paper books, it's not enough to have just one font choice when sitting down to read.
Everyone has their own tastes when it comes to fonts, so having choices is definitely a good thing. Plus having more font options can be a real benefit for those with poor eyesight, in which case a nice bold font can work wonders.
Kobo Touch
The Kobo Touch starts off this list because it offers more font choices than any other ereader on the current market, and that includes both DRM-free ebooks and DRM'd ebooks.
Georgia
Avenir
Amasis
Delima
Felbridge
Gill Sans
Rockwell
Can add most TTF and OFT fonts (directions).
Nook Touch
A stock Nook Touch offers the following formats below. A rooted Nook Touch on the other hand is open to apps with more fonts and apps with the ability to load fonts.
Caecilia
Malabar
Amasis
Gill Sans
Helvetica Neue
Trebuchet
Nook Color
Out of the box, the Nook Color offers the font choices below. Like the Nook Touch, a rooted or Rom'd Nook Color offers access to a wider range of fonts via various Android apps.
Century School Book
Dutch
Georgia
Ascender Sans
Trebuchet MS
Gill Sans
Original Nook
The original Nook still sells from B&N so it made its way onto this list with the following font choices.
Helvetica Neue
Amasis
Light Classic
Amazon Kindle
The Kindle 3 has three font choices; you can add other fonts but have to jailbreak the device first. The other Kindles have just one font type, Caecilia. The Kindle 3's fonts are a little thicker and darker than most other fonts because they are "optimized with Amazon's proprietary waveform and font technology".
Caecilia
Caecilia condensed
Sans serif
PocketBook
PocketBook ereaders have lots of fonts choices, but this only applies to DRM-free ebooks; DRM'd ebook have to use Adobe Reader and it is limited to the default serif font. I think the font choices vary slightly by model; here's the fonts on my PocketBook 602.
DejaVu Serif
Droid Sans
Droid Serif
Georgia
Liberation Mono
Liberation Sans
Liberation Serif
Menuet Script
Myriad Pro
Verdana
Sony Reader PRS-T1
The new Sony Reader PSR-T1 is the first ereader from Sony to have more than one font choice. It's not out just yet, but the videos show the following seven options:
Original
Amasis
Frutiger Neue
Verdana
Univers Next
Really No 2
Palatino nova
Older Sony Readers
The older Sony Readers only come with one default serif font option, but there is a way to add other fonts for DRM-free ebooks with a little work.
iriver Story HD
At the bottom of the list is the iriver Story HD because it only has one font choice, the default Adobe Reader serif font.