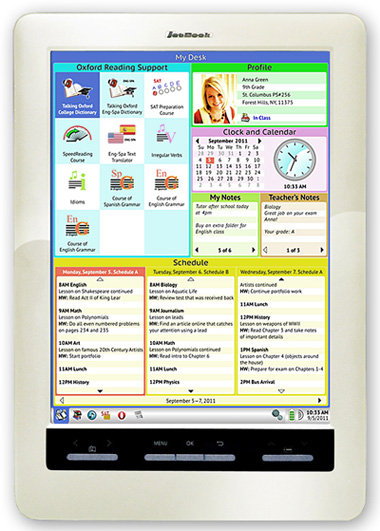 The Ectaco JetBook Color is among the first devices on the planet to use a color E Ink display. These displays, called E Ink Triton, use the same exact type of technology devices like the Kindle and Nook use, but have a filter over the top that gives the screen the ability to display thousands of colors.
Like their monochrome brethren, color E Ink screens are very energy efficient because power isn't needed to maintain the image on the screen, just when turning pages and refreshing the screen. Thus a battery charge can last up to 10,000 page turns.
The JetBook Color isn't being aimed at the consumer ebook market. As the name "eTexbook Tablet" implies, the JetBook Color is designed to be an educational tool used in classrooms. It even comes with a number of learning tools pre-installed, including SAT study courses, a speed reading course, talking dictionaries, text to speech, foreign language instructor program for 52 languages with speech recognition and analysis, translator for 180 languages, and a lot more.
From a classroom standpoint, teachers distribute lessons and tests directly to the students' devices, and students submit all their homework through the unit. Here's more from the description page:
The jetBook Color has 32GB of space designated for eTextbooks, interactive programs, homework, classwork, exams, notes, schedules, and more. Each student's jetBook is individually connected to a teacher's unit. A teacher can send notes, grades, exams, tests, assignments, parent's notes to each student's unit in the class using a secured communication technology. Students can pass their homework or written and verbal tests back to the teacher's unit securely as well. The parents can view all students' class and homework by using a WEB-based Parent Console.
What's more, the JetBook Color can track every move that students make with its built-in GPS chip (sarcasm intended, but an interesting fact mentioned on the Russian specs page). Speaking of specs…
JetBook Color Specs
9.7″ Color E Ink touchscreen display
1600 x 1200 dpi, 800 x 600 ppi
Freescale i.MX508 800MHz ARM Cortex A8 CPU
Built-in WiFi, 3G optional
Supports microSD cards up to 32GB
2350mAh Lithium-Polymer battery
Battery life: 10,000 page turns
USB 2.0 Port
comes with leather pouch and handheld Ectaco/C-Pen scanner
Supported formats: Adobe DRM, PDF, EPUB, TXT, HTXT, HTML, DOC, XLS, JPG, TIF, BMP, PNG, GIF, WAV, WMA, MP3
Dimensions: 270 mm x 188 mm x 11.5 mm
Weight: 554 grams
Available in black or white
The JetBook Color is currently being sold in Russia for 15,000 rubles. That translates into about $500 USD. It isn't available in the United States just yet, but is expected to arrive in US schools sometime in 2012. More information can be found on the JetBook Color description page on JetBook's K-12 website.