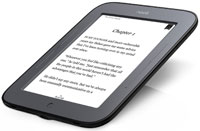 A couple of weeks back, Barnes and Noble started selling refurbished Nook Touches on eBay, and now they've started selling them from B&N.com as well.
A brand new Nook Touch will set you back $139, so going with one of the certified pre-owned Nooks for $112 cuts an extra $27 off the price, enough to buy quite a few ebooks or a nice cover.
Given the current market and the Nook's feature-set, I'd say that this is one of the best deals for an E Ink ebook reader out there. The Kindle with Special Offers sells for $114 new, so that's about the only better deal, but that doesn't have a touchscreen or a hackable Android operating system.
These pre-owned Nooks are most often units that customers bought and then returned. They've been inspected and tested, and come with all the same services and features as a brand new Nook Touch: 90 day phone support, unlimited online technical support, one-year limited warranty, new box and packaging, and micro USB cable and A/C adapter.
On a slightly related note, it looks like B&N just changed the layout of their Nook Book store. It's really simple and uncluttered. I don't know . . . kind of lame too.