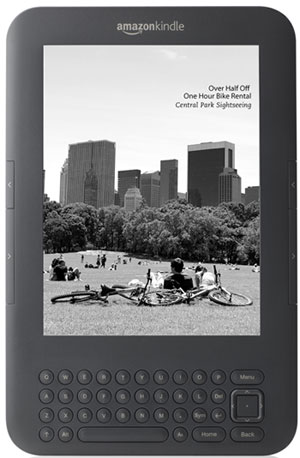 Amazon announced today that they are going to start rolling out a new feature on Kindle 3G and Kindle WiFi with Special Offers that advertises coupon deals on the screensavers for local businesses using AmazonLocal.
Essentially, Kindle with Special Offers owners can view their city's deals and buy the deal directly using the Kindle, which uses your Amazon account to process the transaction so that you don't have to enter a bunch of information every time. Once purchased, a voucher for the deal appears on the Kindle's homescreen, and then you can simply show it to the merchant on your Kindle or print out a copy of the voucher instead by visiting the AmazonLocal website.
AmazonLocal on Kindle is launching in New York City first, and then will expand to include all AmazonLocal cities later in the year.
In order to receive these local deals, Amazon is going to issue a software update to all ad-supported Kindles in the coming weeks.
Here's an example Amazon gives for the deals that will be available in New York City:
Upcoming AmazonLocal deals for New York City Kindle customers in Downtown, Midtown, Uptown (including the Upper East Side and Upper West Side) and Brooklyn include:

$7 for a one-hour bike rental in Central Park ($15 value)
$5 for $10 at Dangerfield's Comedy club
$59 for one month unlimited yoga classes at Bikram Yoga Grand Central ($180 value)
$5 for $10 worth of ice cream and ice cream cakes at Coldstone Creamery
$45 for lunch at City Winery ($98 value)
As noted last week, the ad-supported Kindles have been a huge success for Amazon thus far, and are even outselling non-ad Kindles. Adding local coupon deals to the mix is only going to make them more popular. Plus, I wouldn't be surprised if Amazon drops the price of the Kindle WiFi with Special Offers to $99 in the next month or two with the added stream of advertisers.