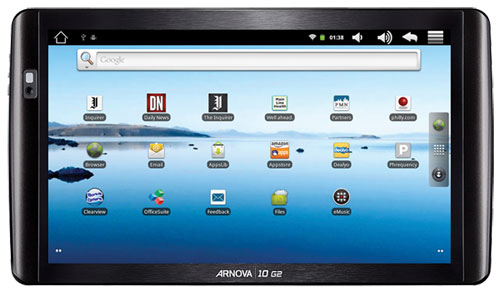 Buy a digital subscription to The Inquirer and Daily News and get a 10″ Archos Arnova 10 G2 tablet for $99 to read them on. That's the gist of a new experiment by the Philadelphia Media Network, which consists of The Philadelphia Inquirer, Philadelphia Daily News, and philly.com.
The bundle package works two different ways. A two year subscription costs $9.99 per month—that's to get the tablet for $99. A one year subscription goes for $12.99 per month—the Archos tablet costs $129 with that option. Either way, that's a pretty steep discount for a 10″ tablet with decent specs.
The Archos Arnova 10 G2 has a 1024 x 600 pixel display with a capacitive multi-touchscreen. It runs on Android 2.3 Gingerbread and is powered by a 1 GHz ARM Cortex A8 processor with 512 MB of RAM. It supports Adobe Flash, can play high-definition 1080p videos, has USB host support for connecting peripherals, and it has an integrated webcam. Unfortunately the Archos 10 G2 isn't sold in the US yet so that's about it for specs at this point.
The The Philadelphia Inquirer and Daily News apps that come pre-installed are full digital replicas of the regular newspapers, and the additional Inquirer Android app was designed specially for the 10″ Arnova tablet and provides access to bonus content like photo galleries and videos. The Arnova tablet also come pre-loaded with several other Android apps, including the Amazon Appstore for downloading more apps through Amazon.
The tablet subscription bundles are available now. There are 5,000 tablets to start out this experiment. Apparently you have to call to order. Here's the order page at Philly.com for more info. They are supposedly partnered with TigerDirect to fulfill orders, but as of this writing there's no listing for it on the TigerDirect website anywhere.
Below is a video from Technically Philly that shows the subscriptions and how they work on the Arnova 10 G2 tablet. It's good to see newspapers trying something different to gain subscribers in this digital age. We'll probably start seeing more things like this in the near future too.