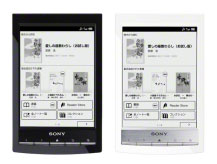 Remember a couple of weeks back when I posted about it being very likely that Sony could release another ebook reader or two to go along with the new PRS-T1?
Well, it looks like that is certainly true, at least in Japan. A 3G version of the new Sony Reader has turned up on Sony Japan's website, and it is called the PRS-G1.
The PRS-G1 looks like it is pretty much exactly the same as the Reader Wi-Fi PRS-T1. The one difference is that the PRS-G1 comes with 3G wireless. Plus there's no red model, just black or white.
There's been no word from Sony about bringing the PRS-G1 to the United States yet, but I don't see why they wouldn't. Both generations of the Sony Daily Edition had free 3G in the US. So why not the PRS-G1 too?
Barnes and Noble dropped their 3G ereaders and Kobo doesn't have any. The Kindle is the only ereader that offers 3G anymore. Sony could gain an advantage by releasing the PRS-G1 in the US. What do you think? A PRS-G1 for $199? That's just $10 more than the new 3G Kindle Touch without ads.