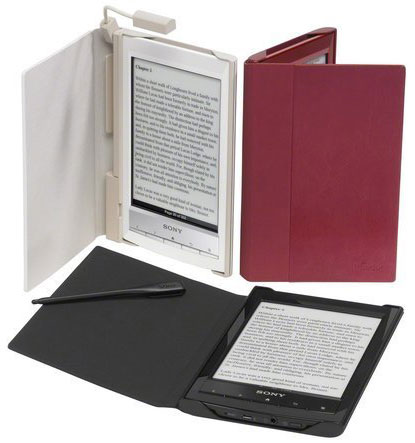 The big news yesterday was that Sony started taking pre-orders for the new Reader Wi-Fi and also put out brand new desktop software for PC and Mac computers.
In doing those stories, I noticed something on Sony's website that indicates more ereaders could potentially be coming in the near future.
A lot of folks are disappointed that Sony has seemingly axed their 5-inch and 7-inch models. Why Sony doesn't at least continue to sell them along with the new Reader Wi-Fi is anyone's guess. But there is still hope that Sony could release another new ereader or two by the end of the year. After all, that's exactly what they did last year. They released the PRS-650 and PRS-350 together and then released the PRS-950 a couple of months later.
Sony's website gives a clue that another ereader could be coming, either that or it's just an oversight (given Sony's history that is very possible, their website is frequently ridden with factual errors and mistakes).
Here's the clue: take a look a Sony's new website layout for their eReader page. First off, the new layout is a major improvement over the old Flash-ridden page that took 15 seconds to load even with high speed internet.
Take a look at the left nav. If Sony only intends to release one model of ereader this year, then why is their a section titled "models"? Why would they use plural when there is only one model? It's a pretty subtle detail, but still, if there is only going to be one model why would the s even be there. Plus, there's a link on the upper right that says "Shop All E-Readers". Clicking it just directs to the Reader Wi-Fi page—seems kind of pointless and redundant with just one model.
You could argue that these are just elements of a template, but pretty much the only other page with a similar layout is the tablets page. And that still doesn't explain why they would use the word models instead of model.
Given Sony's past releases, it's wouldn't be a stretch for them to offer a premium ereader as well. The new Reader Wi-Fi does a good job of bringing Sony's solid set of features to the same price level as all the other major players, but Sony usually offers a more expensive, higher quality option too. Given that, a Sony Reader with a larger screen and 3G wireless could still be a possibility.
After all, Sony probably really had to push to get the Reader Wi-Fi out in time for the big Harry Potter website launch, Pottermore, which looks to be a big marketing tie-in for Sony's ereaders. It's no coincidence that Pottermore officially launches at the same time the Reader Wi-Fi hits shelves.